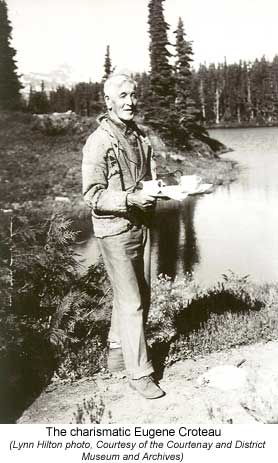 In 1930 Eugene Croteau, an entrepreneur who had resided in the Comox Valley since 1917, established a guest lodge up on Forbidden Plateau at a picturesque lake surrounded by tall conifers and delicious mountain huckleberry bushes, skittish white-tailed deer and inquisitive Black Bears. The lake became known as Croteau Lake and although the cabin has long since gone the outline of the frame can still be seen at the northern end of the lake in a small clearing on the shore.
At the beginning of the season Croteau's camp consisted of a tent and a horse stable but he soon built a log dinning room cabin where for many years he entertained a variety of guests. Eugene Croteau, and his dog Plateau, who became as well known as his master, was a gracious host who catered to the smallest of his client's wishes and was well versed as a raconteur having led a colourful life.
Eugene Croteau was born in 1862 in the county of Levin in Quebec and went to school at St. Nicholas. As a teenager he moved out to Victoria where his father had business connections. He had a letter of introduction to A. B. Graham a wholesale liquor merchant and he suggested Croteau learn English. While studying he found work with the Vancouver Wine Company where he learned about wine and cigars that were sold to the local saloons. In 1894 he went to manage the prestigious Guichon Hotel built by Laurent Guichon and family who contributed enormously to the development of New Westminster. There he met such famous personalities as Sir John Thompson, Sir Wilfred Laurier, Henri Bourassa, Sir Charles Tupper and Dick McBride (later Sir Richard McBride who established Strathcona Provincial Park in 1911.)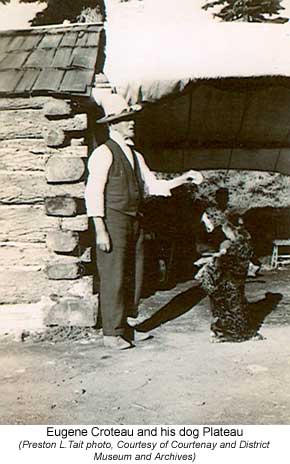 In 1939, Courtenay's Ruth Masters who was nineteen years old at the time, worked for the season cooking at Eugene Croteau's camp. Earning $15 a month including tent and board, Ruth worked from the middle of July to the middle of September. A typical breakfast was Canadian flapjacks and bread, lunch consisted of sandwiches and supper was tinned meat and vegetables. A packtrain of horses operated initially by Jack Murray and later John Ward supplied Croteau with his food and guests twice a week and the clients usually stayed up to a week at the camp. The following year Sue Mouat (nee Wood) took the job as cook for Croteau as Ruth went overseas to do her part for the war effort. Charges were modest: in 1935 the cost was $3.75 including meals and linen on the bed. The cost for saddle horses was $2.50 per day and packing rates for baggage was five cents per pound.
Most of the guests were British Columbian's, however, occasionally there would be an international guest staying some from as far away as Africa and Scotland. Croteau's camp consisted of the main cabin and six tents with wooden floors for the guests. At the time Ruth Masters was working at the camp, Preston Tait was the guide leading trips up to Mount Albert Edward, Castle Mountain (Castlecrag), Mount Arthur (Jutland), Mount Regan, Mount Washington and Alexandra Peak. Tait joined Croteau in 1937 to help run the camp and to guide trips. He was a well-known photographer, a member of the Alpine Club of Canada, an editor for the B.C. Mountaineer and an organizer for the B.C. Mountaineering Club. Although the ascent of Mount Albert Edward was the most popular destination another popular round trip was from Croteau Lake to Circle (Circlet) Lake, down to Sims and Divers Lake and then up the draw between Strata Mountain and Limestone Ridge (Mount Allan Brooks) and back to Croteau Lake. Often Ruth led some of the easier trips up Mount Elma (named after Courtenay's Mayor Theed Pearses' wife Elma) and over to Moat and Circle Lake and the Cruikshank Lookout. It was the arrival of one of the packtrains that announced to both the quests and staff that war had been proclaimed in Europe.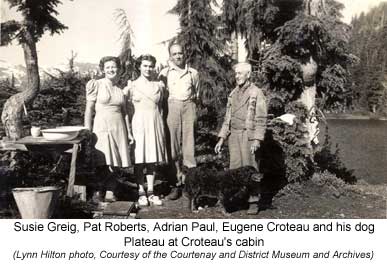 In the first year of operations nearly two hundred people had stayed and passed through his camp and by the end of 1932 that figure rose to well over two hundred. Although the numbers dropped off after Clinton Wood built the Forbidden Plateau Lodge in 1934 and the camps at Mariwood and McKenzie Lakes that also offered guiding services, he continued offering his services through to 1942. In that year John Ward who maintained the trail and had the packhorses moved away and Eugene took on the charge of trail work and bringing up the packhorses, however, Eugene who was already eighty found the work too arduous. Although after seven trips the camp was stocked Eugene decided not to operate the camp himself but left the place open for use by those who had already booked. It was hard for him to leave behind over a decades work but more disappointing was the thought of not waking up every morning to the spectacular scenery that abounded during those summers on the plateau. Eugene Croteau lived his remaining years out at his place at Croteau Beach and passed away in April, 1952, at the age of ninety. As the newspaper stated: "Mr. Eugene Croteau came to the end of the trail."

top